Each year at BirmingHAMfest, the Birmingham Amateur Radio Club makes a special presentation of the Citizenship Award. This is the highest honor awarded by the Birmingham Amateur Radio Club in recognition of outstanding service, unselfish devotion and contributions to the Club, the community, and to the Amateur Radio Fraternity. The recipient is selected by the President and two past recipients of the award.

Previous honorees include: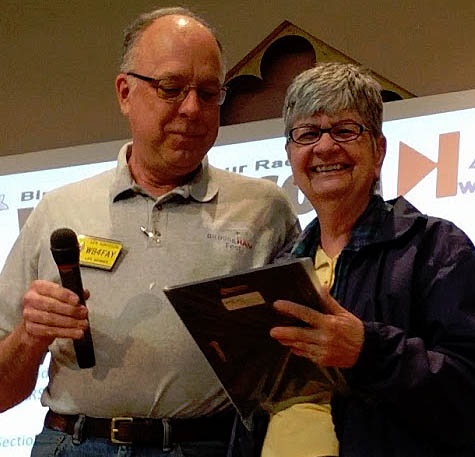 Congratulations to Rosalind Fazel,KD4ZGO,
the 2017 BARC Citizenship Award honoree!
1954 - Bill Bankston, W4DFE 1955 - Clark Simms, W4HKK 1956 - Albert Parris, W4CCV 1957 - Aaron George, W4GET 1958 - Howard Kilpatrick, W4WAZ S.D. Christian, W4EBD 1959 - Bill Jacoway, W4RWX 1960 - Aubrey White, Sr., W4OLG 1961 - Francis Shannon, W4RLG 1962 - Jack Dotherow, K4AOZ 1963 - Mary Coleman, K4WSK 1964 - O.K. Gibbs, K4BTO 1965 - Bill Gann, W4BTO 1966 - Phiol Mentz, W4ELX 1967 - Sybil Holley, WA4EEC 1968 - Pete Sides, W4AUP 1969 - Bill Crafts, W4KJD 1970 - E.C. Atkerson, W4ECI 1971 - Dave Cisco, W4AXL 1972 - Tom Hammack, W4WLF 1973 - Virgil Rawlinson, W4RWD 1974 - Jerome Tanner, W4BJG 1975 - George Alderson, WB4JOY 1976 - Louis Bohorfoush, WB4CXD 1977 - Jim Bonner, K4UMD 1978 - Gib Sedwick, WA4WY 1979 - Jimmy Long, W4ZRZ 1980 - Keith Kandrum, KD4DQ 1981 - Jerry Womble, WA4QIN 1982 - Mike Lord, K4ELV 1983 - Joe Smith, WA4RNP 1984 - Fay Burt, KA4VIK Jerry Burt, KA4VIL 1985 - Lil Bankston, K4DSO 1986 - Don Frizzell, KA4ZEW 1987 - Larry Wood, WB4AYH 1988 - Mildred Cullen, AA4XF Lewis Cullen, AA4XE 1989 - Willard Brown, K4IR 1990 - James Pilman, KA4ZQA 1991 - Ernest Beard, WD4BXH Kenner Beard, N4LLK 1992 - Bill Levey, WA4FAT 1993 - Charles Spanos, N4DKE Michael Spanos, KA4VCA 1994 - Frank Blanchard, AA4LB 1995 - Dan Morgan, KB4MDI 1996 - Bob Snow, KB4SYG Susan Snow, KC4ATI 1997 - Mike Merk, W4ALA 1998 - Ellis Dobbins, K4LI 1999 - Eddie Oliver, KD4BWW Betty Oliver, KD4QIC 2000 - Russell Steiner, W4VDA 2001 - Randy Kelling, W4KI 2002 - Steven Moss, KB4FKN 2003 - Ron Arant, N4PHP 2004 - Jerry Fiore, N4JF 2005 - Glenn Glass, KE4YZK 2006 - Ken Caruso, KS4NX 2007 - Greg Sarrett, W4OZK 2008 - Ken Adkisson, WB4FAY 2009 - Ed Pitchford, KD4AY 2010 - Joe Ford, K4NVJ 2011 - Jay Isbell, KA4KUN 2012 - Jim Rogers, W4ATK 2013 - Paul Nash, W4JY 2014 - John Outland, K4FP 2015 - Frank Butler, W4RH 2016 - Bill Davidson, KW4J 2017 - Rosalind Fazel, KD4ZGO